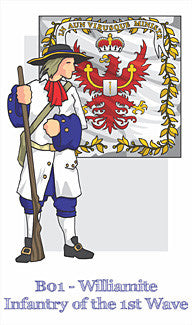 B03 Battle of the Boyne - Williamite Infantry First Wave
The first wave to cross at Oldbridge, led by King William III's Dutch Blue Guard.
You should receive a link for your digital download after checkout. If not, please contact me at quindiastudios@gmail.com...
ATTENTION: THIS PDF IS CURRENTLY AVAILABLE FREE (SEE DETAILS ON THE MAIN PAGE). IT HAS BEEN INCLUDED HERE FOR COMPLETENESS AND FOR THE TIME WHEN THE FREE SAMPLE MAY BE ROTATED TO ANOTHER PDF...