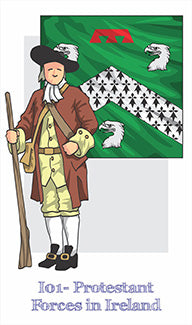 I01 - Protestant Forces in Western Ireland 1689-1690
The increasingly uncertain situation in Ireland during late 1688 led every community of Protestants to the same conclusion. That being, in order to stay safe they must organize and arm themselves. It was clear that no immediate help would be forthcoming either from within Ireland or, from England. With all three kingdoms in turmoil it was up to local leaders to create a plan and work within their interpretation of what constituted legitimate self-defence and acts which could be considered treasonous by those disposed to assume a contra viewpoint. 
You should receive a link for your digital download after checkout. If not, please contact me at quindiastudios@gmail.com...